Care and security services | Calgary Parking
If you need your tire inflated, a squeegee for window cleaning or a vacuum, just park in one of our parkades with a Car Care Centre. Services are free when you start a parking session with us. 
Most of the Car Care Centres are located near the parkade entrance and exit ways and are accessible 24 hours a day, 7 days a week. Best of all, they're free for customers to use!
Available at these parkades: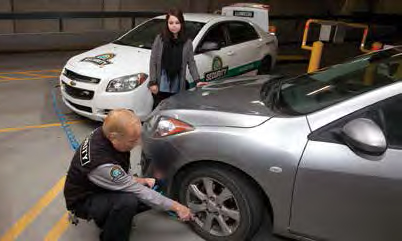 We offer free battery boosting, tire assistance and lock services. This service is available to all customers using ParkPlus on-street zones and parkades and surface lots except at the Calgary Zoo, TELUS Spark, Heritage Park and within Calgary Transit lots. 
To request ParkAid services please call security at 403-537-7006. All services are available 24 hours a day, 7 days a week.
Intercoms

All intercoms link directly to a dispatch office. Intercoms are in elevator lobbies, stairwells, at drive lanes and pedestrian access doors.

Safewalk Program

Security will happily escort you to your vehicle from the entrance of the parkade. Please call us at 403-537-7006 to arrange your escort.

Regular patrols

Security staff conduct regular patrols in all parkades and surface lots.

Video monitoring

We monitor a system of closed circuit television cameras. Cameras are in parkade lobbies, stairwells, drive lanes, pedestrian access doors, and entrances and exits.