On-street parking | Calgary Parking
On-street parking in Calgary is managed according to the Calgary Parking Policies. Managing on-street parking downtown and other busy areas of the city is important for several reasons. Paid, time-restricted, registration-required, long-stay, short-stay and loading zone parking are all ways that help to:
Support citizens and visitors with finding available on-street parking near businesses, services, and popular attractions
Balance residential visitors and service providers in busy neighbourhoods
Minimize vehicles searching for parking which contributes to congestion, traffic safety risks, GHG production, and air pollution
On-street parking is divided into different pricing areas with various parking restrictions in place, depending on time and location. Each pricing area has ParkPlus zones with the zone number displayed on signage to enter when paying or registering to park. 
Always ensure you look at posted signage for parking restrictions in that particular spot.
On-street accessible parking
---
Providing accessible parking is important to us and we have several accessible on-street parking options. Please ensure you leave accessible spaces for those with a licence plate or placard, as these spaces are strictly enforced. Visit our accessible parking page for more information on locations.
Long stay on-street parking
---
If you're looking to park for longer durations, we have a number of areas and zones that allow for up to 9 hours of parking.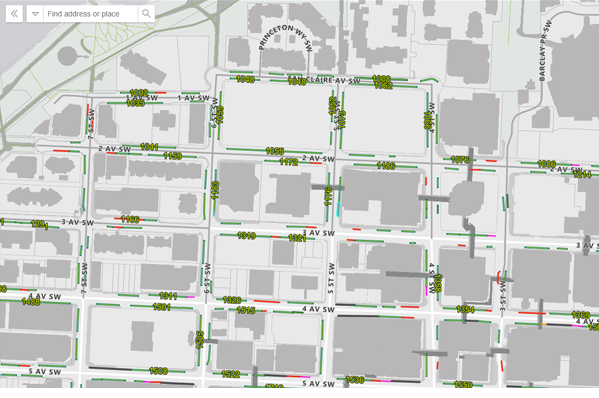 There are times when you need to park for just a few minutes, which is why we have loading zones. Loading zones are available to park for free for up to 20 minutes – just remember to check the signage!
Some loading zones require you to register your license plate even if payment is not required. Users must start and end their parking sessions the same way they would when paying for parking, however, no payment is necessary. Licence plate registration allows us to collect parking data on loading zone usage, while also encouraging users to comply with the posted time restrictions. Failure to register your license plate will result in a fine.
Loading zone locations that require registration:
These areas were selected based off a survey from The City of Calgary determining which areas were experiencing the most problems with overstaying time limits.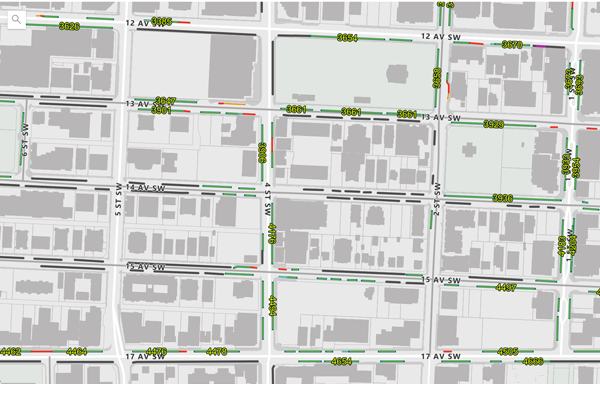 Monday to Friday:  7 a.m. to 6 p.m.
Saturdays:  9 a.m. to 6 p.m.
Sundays and holidays: No charge
Evenings after 6 p.m.: No charge
Payment is not required anytime outside of the on-street parking hours. Be sure to check parking signage as times and payment will vary depending on the zone even within the on-street parking hours.
On-street parking is free on the following holidays:
New Year's Day
Alberta Family Day
Good Friday
Victoria Day
Canada Day
Civic Holiday/Heritage Day
Labour Day

National Day for Truth and Reconciliation
Thanksgiving Day
Remembrance Day
Christmas Day
Boxing Day
Please note free parking applies on the exact date of the Holiday only, not the next working day. All other parking restrictions are still in effect on holidays. Check signage to verify what parking restrictions are in effect for that area.